Forgiveness...
Forgiveness is not the end. Forgiveness does make lovely, but it does not create. It is the source of healing, but it is the messenger of love and not its source. Here you are lead, that God Himself can take the final step unhindered, for here does nothing interfere with love, letting it be itself.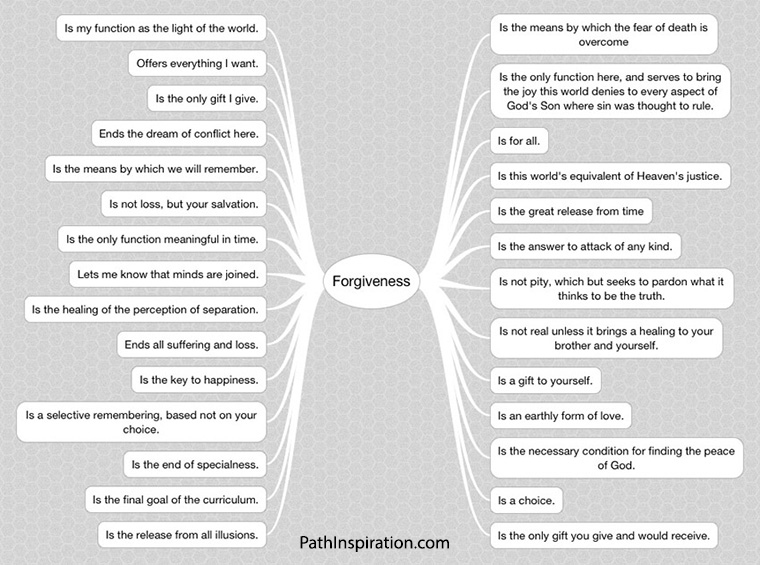 Lessons with Forgiveness in the Title
LESSON 62. Forgiveness is my function as the light of the world.
LESSON 121. Forgiveness is the key to happiness.
LESSON 122. Forgiveness offers everything I want.
LESSON 134. Let me perceive forgiveness as it is.
LESSON 247. Without forgiveness I will still be blind.
LESSON 249. Forgiveness ends all suffering and loss.
LESSON 297. Forgiveness is the only gift I give.
LESSON 332. Fear binds the world. Forgiveness sets it free.
LESSON 333. Forgiveness ends the dream of conflict here.
LESSON 334. Today I claim the gifts forgiveness gives.
LESSON 336. Forgiveness lets me know that minds are joined.
LESSON 342. I let forgiveness rest upon all things, For thus forgiveness will be given me.
Passages about Forgiveness in The Course in Miracles
There are over 100 references to Forgiveness in ACIM, which is not surprising, since forgiveness is the cornerstone of salvation. Below are some of these references.
FORGIVENESS
1. What Is Forgiveness? Forgiveness recognizes what you thought your brother did to you has not occurred. It does not pardon sins and make them real. It sees there was no sin. And in that view are all your sins forgiven. What is sin, except a false idea about God's Son? Forgiveness merely sees its falsity, and therefore lets it go. What then is free to take its place is now the Will of God. An unforgiving thought is one which makes a judgment that it will not raise to doubt, although it is not true. The mind is closed, and will not be released. The thought protects projection, tightening its chains, so that distortions are more veiled and more obscure; less easily accessible to doubt, and further kept from reason. What can come between a fixed projection and the aim that it has chosen as its wanted goal? An unforgiving thought does many things. In frantic action it pursues its goal, twisting and overturning what it sees as interfering with its chosen path. Distortion is its purpose, and the means by which it would accomplish it as well. It sets about its furious attempts to smash reality, without concern for anything that would appear to pose a contradiction to its point of view. Forgiveness, on the other hand, is still, and quietly does nothing. It offends no aspect of reality, nor seeks to twist it to appearances it likes. It merely looks, and waits, and judges not. He who would not forgive must judge, for he must justify his failure to forgive. But he who would forgive himself must learn to welcome truth exactly as it is. Do nothing, then, and let forgiveness show you what to do, through Him Who is your Guide, your Savior and Protector, strong in hope, and certain of your ultimate success. He has forgiven you already, for such is His function, given Him by God. Now must you share His function, and forgive whom He has saved, whose sinlessness He sees, and whom He honors as the Son of God.

Schucman, Dr. Helen (Scribe) (2008-08-01). A Course in Miracles (Kindle Locations 17181-17195). Foundation for Inner Peace. Kindle Edition.

LESSON 134. Let me perceive forgiveness as it is. Let us review the meaning of "forgive," for it is apt to be distorted and to be perceived as something that entails an unfair sacrifice of righteous wrath, a gift unjustified and undeserved, and a complete denial of the truth. In such a view, forgiveness must be seen as mere eccentric folly, and this course appear to rest salvation on a whim. This twisted view of what forgiveness means is easily corrected, when you can accept the fact that pardon is not asked for what is true. It must be limited to what is false. It is irrelevant to everything except illusions. Truth is God's creation, and to pardon that is meaningless. All truth belongs to Him, reflects His laws and radiates His Love. Does this need pardon? How can you forgive the sinless and eternally benign? The major difficulty that you find in genuine forgiveness on your part is that you still believe you must forgive the truth, and not illusions. You conceive of pardon as a vain attempt to look past what is there; to overlook the truth, in an unfounded effort to deceive yourself by making an illusion true. This twisted viewpoint but reflects the hold that the idea of sin retains as yet upon your mind, as you regard yourself. Because you think your sins are real, you look on pardon as deception. For it is impossible to think of sin as true and not believe forgiveness is a lie. Thus is forgiveness really but a sin, like all the rest. It says the truth is false, and smiles on the corrupt as if they were as blameless as the grass; as white as snow. It is delusional in what it thinks it can accomplish. It would see as right the plainly wrong; the loathsome as the good. Pardon is no escape in such a view. It merely is a further sign that sin is unforgivable, at best to be concealed, denied or called another name, for pardon is a treachery to truth. Guilt cannot be forgiven. If you sin, your guilt is everlasting. Those who are forgiven from the view their sins are real are pitifully mocked and twice condemned; first, by themselves for what they think they did, and once again by those who pardon them. It is sin's unreality that makes forgiveness natural and wholly sane, a deep relief to those who offer it; a quiet blessing where it is received. It does not countenance illusions, but collects them lightly, with a little laugh, and gently lays them at the feet of truth. And there they disappear entirely. Forgiveness is the only thing that stands for truth in the illusions of the world. It sees their nothingness, and looks straight through the thousand forms in which they may appear. It looks on lies, but it is not deceived. It does not heed the self-accusing shrieks of sinners mad with guilt. It looks on them with quiet eyes, and merely says to them, "My brother, what you think is not the truth." The strength of pardon is its honesty, which is so uncorrupted that it sees illusions as illusions, not as truth. It is because of this that it becomes the undeceiver in the face of lies; the great restorer of the simple truth. By its ability to overlook what is not there, it opens up the way to truth, which has been blocked by dreams of guilt. Now are you free to follow in the way your true forgiveness opens up to you. For if one brother has received this gift of you, the door is open to yourself. There is a very simple way to find the door to true forgiveness, and perceive it open wide in welcome. When you feel that you are tempted to accuse someone of sin in any form, do not allow your mind to dwell on what you think he did, for that is self-deception. Ask instead, "Would I accuse myself of doing this?" Thus will you see alternatives for choice in terms that render choosing meaningful, and keep your mind as free of guilt and pain as God Himself intended it to be, and as it is in truth. It is but lies that would condemn. In truth is innocence the only thing there is. Forgiveness stands between illusions and the truth; between the world you see and that which lies beyond; between the hell of guilt and Heaven's gate. Across this bridge, as powerful as love which laid its blessing on it, are all dreams of evil and of hatred and attack brought silently to truth. They are not kept to swell and bluster, and to terrify the foolish dreamer who believes in them. He has been gently wakened from his dream by understanding what he thought he saw was never there. And now he cannot feel that all escape has been denied to him. He does not have to fight to save himself. He does not have to kill the dragons which he thought pursued him. Nor need he erect the heavy walls of stone and iron doors he thought would make him safe. He can remove the ponderous and useless armor made to chain his mind to fear and misery. His step is light, and as he lifts his foot to stride ahead a star is left behind, to point the way to those who follow him. Forgiveness must be practiced, for the world cannot perceive its meaning, nor provide a guide to teach you its beneficence. There is no thought in all the world that leads to any understanding of the laws it follows, nor the Thought that it reflects. It is as alien to the world as is your own reality. And yet it joins your mind with the reality in you. Today we practice true forgiveness, that the time of joining be no more delayed. For we would meet with our reality in freedom and in peace. Our practicing becomes the footsteps lighting up the way for all our brothers, who will follow us to the reality we share with them. That this may be accomplished, let us give a quarter of an hour twice today, and spend it with the Guide Who understands the meaning of forgiveness, and was sent to us to teach it. Let us ask of Him: Let me perceive forgiveness as it is. Then choose one brother as He will direct, and catalogue his "sins," as one by one they cross your mind. Be certain not to dwell on any one of them, but realize that you are using his "offenses" but to save the world from all ideas of sin. Briefly consider all the evil things you thought of him, and each time ask yourself, "Would I condemn myself for doing this?" Let him be freed from all the thoughts you had of sin in him. And now you are prepared for freedom. If you have been practicing thus far in willingness and honesty, you will begin to sense a lifting up, a lightening of weight across your chest, a deep and certain feeling of relief. The time remaining should be given to experiencing the escape from all the heavy chains you sought to lay upon your brother, but were laid upon yourself. Forgiveness should be practiced through the day, for there will still be many times when you forget its meaning and attack yourself. When this occurs, allow your mind to see through this illusion as you tell yourself: Let me perceive forgiveness as it is. Would I accuse myself of doing this? I will not lay this chain upon myself. In everything you do remember this: No one is crucified alone, and yet no one can enter Heaven by himself.

Schucman, Dr. Helen (Scribe) (2008-08-01). A Course in Miracles (Kindle Locations 15235-15284). Foundation for Inner Peace. Kindle Edition.

Forgiveness is an earthly form of love, which as it is in Heaven has no form. Yet what is needed here is given here as it is needed. In this form you can fulfill your function even here, although what love will mean to you when formlessness has been restored to you is greater still. Salvation of the world depends on you who can forgive. Such is your function here.

Schucman, Dr. Helen (Scribe) (2008-08-01). A Course in Miracles (Kindle Locations 16601-16603). Foundation for Inner Peace. Kindle Edition.

Therefore, you have a function in the world in its own terms. For who can understand a language far beyond his simple grasp? Forgiveness represents your function here. It is not God's creation, for it is the means by which untruth can be undone. And who would pardon Heaven? Yet on earth, you need the means to let illusions go. Creation merely waits for your return to be acknowledged, not to be complete. Creation cannot even be conceived of in the world. It has no meaning here. Forgiveness is the closest it can come to earth. For being Heaven-born, it has no form at all. Yet God created One Who has the power to translate in form the wholly formless. What He makes are dreams, but of a kind so close to waking that the light of day already shines in them, and eyes already opening behold the joyful sights their offerings contain. Forgiveness gently looks upon all things unknown in Heaven, sees them disappear, and leaves the world a clean and unmarked slate on which the Word of God can now replace the senseless symbols written there before. Forgiveness is the means by which the fear of death is overcome, because it holds no fierce attraction now and guilt is gone. Forgiveness lets the body be perceived as what it is; a simple teaching aid, to be laid by when learning is complete, but hardly changing him who learns at all. The mind without the body cannot make mistakes. It cannot think that it will die, nor be the prey of merciless attack. Anger becomes impossible, and where is terror then? What fears could still assail those who have lost the source of all attack, the core of anguish and the seat of fear? Only forgiveness can relieve the mind of thinking that the body is its home. Only forgiveness can restore the peace that God intended for His holy Son. Only forgiveness can persuade the Son to look again upon his holiness. With anger gone, you will indeed perceive that, for Christ's vision and the gift of sight, no sacrifice was asked, and only pain was lifted from a sick and tortured mind. Is this unwelcome? Is it to be feared? Or is it to be hoped for, met with thanks and joyously accepted? We are one, and therefore give up nothing. But we have indeed been given everything by God. Yet do we need forgiveness to perceive that this is so. Without its kindly light we grope in darkness, using reason but to justify our rage and our attack. Our understanding is so limited that what we think we understand is but confusion born of error. We are lost in mists of shifting dreams and fearful thoughts, our eyes shut tight against the light; our minds engaged in worshipping what is not there.

Schucman, Dr. Helen (Scribe) (2008-08-01). A Course in Miracles (Kindle Locations 16764-16782). Foundation for Inner Peace. Kindle Edition.

Forgiveness is illusion that is answer to the rest. Forgiveness sweeps all other dreams away, and though it is itself a dream, it breeds no others. All illusions save this one must multiply a thousandfold. But this is where illusions end. Forgiveness is the end of dreams, because it is a dream of waking. It is not itself the truth. Yet does it point to where the truth must be, and gives direction with the certainty of God Himself. It is a dream in which the Son of God awakens to his Self and to his Father, knowing They are One. Forgiveness is the only road that leads out of disaster, past all suffering, and finally away from death. How could there be another way, when this one is the plan of God Himself? And why would you oppose it, quarrel with it, seek to find a thousand ways in which it must be wrong; a thousand other possibilities? Is it not wiser to be glad you hold the answer to your problems in your hand? Is it not more intelligent to thank the One Who gives salvation, and accept His gift with gratitude? And is it not a kindness to yourself to hear His Voice and learn the simple lessons He would teach, instead of trying to dismiss His words, and substitute your own in place of His? His words will work. His words will save. His words contain all hope, all blessing and all joy that ever can be found upon this earth. His words are born in God, and come to you with Heaven's love upon them. Those who hear His words have heard the song of Heaven. For these are the words in which all merge as one at last. And as this one will fade away, the Word of God will come to take its place, for it will be remembered then and loved. This world has many seeming separate haunts where mercy has no meaning, and attack appears as justified. Yet all are one; a place where death is offered to God's Son and to his Father. You may think They have accepted. But if you will look again upon the place where you beheld Their blood, you will perceive a miracle instead. How foolish to believe that They could die! How foolish to believe you can attack! How mad to think that you could be condemned, and that the holy Son of God can die! The stillness of your Self remains unmoved, untouched by thoughts like these, and unaware of any condemnation which could need forgiveness. Dreams of any kind are strange and alien to the truth. And what but truth could have a Thought which builds a bridge to it that brings illusions to the other side? Today we practice letting freedom come to make its home with you. The truth bestows these words upon your mind, that you may find the key to light and let the darkness end: Only my condemnation injures me. Only my own forgiveness sets me free.

Schucman, Dr. Helen (Scribe) (2008-08-01). A Course in Miracles (Kindle Locations 16960-16979). Foundation for Inner Peace. Kindle Edition.

X. Open-Mindedness M-4.X.1. The centrality of open-mindedness, perhaps the last of the attributes the teacher of God acquires, is easily understood when its relation to forgiveness is recognized. Open-mindedness comes with lack of judgment. As judgment shuts the mind against God's Teacher, so open-mindedness invites Him to come in. As condemnation judges the Son of God as evil, so open-mindedness permits him to be judged by the Voice for God on His behalf. As the projection of guilt upon him would send him to hell, so open-mindedness lets Christ's image be extended to him. Only the open-minded can be at peace, for they alone see reason for it.
Schucman, Dr. Helen (Scribe) (2008-08-01). A Course in Miracles (Kindle Locations 18430-18434). Foundation for Inner Peace. Kindle Edition.